"Summer Intern Gets His Hands Dirty with Local Land Trust"
Our summer intern, Dylan Sloan, worked tirelessly on the trails, in the Community Garden, on our blog, and more throughout the summer. While it could have been an odd summer with a global pandemic and social distancing, Dylan certainly made the most of it, stayed positive, and worked hard throughout his time with us. Thank you, Dylan, for all of your hard work!
Summer Intern Gets His Hands Dirty with Local Land Trust
By Tom Porter
August 21, 2020
Dylan Sloan '22 admits he got "really lucky" with his summer internship. "To a large extent, much of the work I'm doing is outside and therefore unaffected by the pandemic and by social distancing guidelines."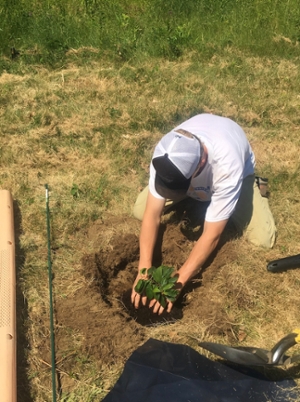 He has been working as a summer intern for the Brunswick-Topsham Land Trust, a local nonprofit organization dedicated to both conserving, protecting, and supporting local natural resources and to connecting citizens with these resources.
Some of Sloan's work over the summer has him deskbound, requiring him to perform tasks like writing reports and press releases, but many of his responsibilities also involve heading outside and getting his hands dirty. Community gardening, tree-planting, trail maintenance, and trail development are some of the jobs he has been doing.
Such work may be relatively unaffected by the pandemic, but the COVID-19-induced lockdown has actually made it more relevant than ever, he says. "Given everything that's going on and with many people stuck at home, I thought it might be a quiet summer. But, actually, there's been a pretty sharp increase in the amount of people using trails the Land Trust operates, and the amount of people getting outside to garden and volunteer and things like that."
Sloan has also learned new skills. One of the big projects he undertook during the summer involved working on a couple of plots of land that the organization recently took ownership of. "There are a lot of unmarked and unmapped trails on that land, so I've been walking those trails and logging them in GPS systems so we can eventually have more detailed maps available when the trails are opened to the public."
Sloan, an economics major, is a journalist for the Bowdoin Orient, and it was in that capacity he first encountered the Land Trust. "I was writing an article early last semester about some of the Nordic and cross-country skiing opportunities offered through the Land Trust, and got to talk with the president, Angela Twitchell," he said. "Later, when considering summer opportunities in the nonprofit sector and trying to pursue a grant through the Office of Career Exploration and Development, I remembered that I already had a cool connection with a local organization doing something I was really interested in."
As well as getting a really good idea of how a small nonprofit works, Sloan has been delighted to spend the summer in this part of Maine. "I wanted to stay in the beautiful Brunswick area for at least one summer during my time here, and it's been great to do that, even though it's been a far-from-normal summer."
Sloan was the recipient of a grant awarded by the Annual Fund for Career Readiness provided by Matthew R. Neidlinger '06. He is one of more than 100 Bowdoin students who have a funded internship from Bowdoin's Career Exploration and Development office to work with an organization of their choice this summer. These funds provide a living wage to students if their employer, often a nonprofit, is unable to pay its interns.
https://www.btlt.org/wp-content/uploads/2020/09/Screen-Shot-2020-09-04-at-8.33.27-AM.png
401
300
Lydia Coburn
https://www.btlt.org//wp-content/uploads/2021/03/BTLT2021WebBanner1Green-300x90.png
Lydia Coburn
2020-09-04 19:02:43
2020-09-04 19:02:43
"Summer Intern Gets His Hands Dirty with Local Land Trust"